3*S Landidyll Hotel zum Kreuz in Glottertal
Your Hotel in the heart of the southern Black Forest
We welcome you to the Landidyll Hotel zum Kreuz for your stay in the sun-drenched Glottertal Valley as well as to our restaurant for a delicious taste of the Black Forest.
We have been cultivating the warm hospitality of the Kreuz for over 300 years. Now the 11th generation is welcoming guests to our traditional hotel.

We are looking forward to your visit to the Landidylle Hotel zum Kreuz in Glottertal.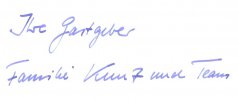 The Kunz Family and the Kreuz Team
Reasons to stay with us
The culinary pleasures of the Restaurant zum Kreuz
Regional cuisine
Great service in our family-run hotel
A traditional hotel in the Glottertal Valley
The natural paradise of the Black Forest
Only 12 km to Freiburg
Relax, celebrate, & hold meetings in the Landidyll Hotel Zum Kreuz
Enjoy the soothing country idyll in southern Baden, near the cathedral city of Freiburg, and celebrate unforgettable celebrations with your loved ones. Feel at home on business trips or hold meetings in a relaxed atmosphere.
Your very personal timeout awaits you in our new spa area.  Visit this wonderful oasis of well-being and let your spirits soar once again.
Gently rolly hills and magnificent vineyards surround the beautiful town of Glottertal in the heart of the southern Black Forest. It's an idyllic paradise that combines the fertile Rhine Valley with the Upper Black Forest.
The Restaurant zum Kreuz in the Glottertal Valley
A Black Forest Nature Park host
In the zum Kreuz Restaurant, you can savor the excellent regional Baden cuisine and seasonal specialties.  As a nature park host of the Southern Black Forest and "Schmeck den Süden" (Taste the south) gastronomer, we use high-quality fresh products from the region so you feel great about the meals and can enjoy without reservation. We cherish the culinary arts with local foods and combine modern accents with traditional recipes from the Kunz family. 

A special service at the  zum Kreuz is our diverse range of vegetarian, lactose- and gluten-free dishes as well as refined creations with high-quality organic components.